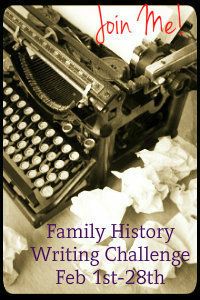 February 2013 was certainly a busy month for me with regards to genealogy and blogging. I took part in the
February Photo Collage Festival
and the
Family History Writing Challenge
. I
initially decided
that I would combine the two challenges and try to write 500 words a day using my daily photograph from the February Photo Collage as a prompt. However, only a day into the challenges I decided that I would attempt the two separately.
I discussed this in my post on 3 February
Family History Writing Challenge - What's my plan?
I have decided to borrow an idea I saw
+Alex Daw
of the
Family Tree Frog
blog use in her final post for the February Photo Collage Festival (
Fab Feb Photo Collage -Day 28
). Alex made an assessment of the things she had learned from the challenge by answering the following questions:
What have I learned?
What have I achieved?
Where have I been (if only virtually)?
To do list
Books I'd recommend are:
Websites I'd recommend are:
I thought this was a great way to assess my experiences with
The Family History Writing Challenge
and asked Alex if I could borrow the idea. Thanks Alex for the permission to do so! I have changed some of the questions just a little.
What have I achieved?
At the end of January 2013, I made a pledge to write 500 words a day for
The Family History Writing Challenge
. Did I achieve this pledge? The honest answer is no, I did not manage to write 500 words a day. My Word file Fullerton_Project_Draft has 24,820 words, but I didn't write all of those during February. These 24,820 words consist mostly of transcriptions of documents arranged in a chronological order. In other words, I did not manage to write beautifully detailed and creative prose, but I did managed to (begin to) create a draft, an outline that will later become the family history when I add more life to it.
A screenshot of my chronological outline in Microsoft Word.
I took the one-source-at-a-time approach recommended by
Carol Baxter
in her book
Family Tree Tips: Writing Interesting Family Histories
. These were the steps I followed:
Take one source document.
Extract the data from that source document into Word in simple form (without worrying about how boring and factual it sounds in its first draft)
Create a source citation and an entry in my bibliography for that source document.
In a Fullerton Project folder in Evernote in a sub-folder called 'Source Analysis' I create a note for each source, with a source citation and questions about the source document and the background history.
Make a note that I have extracted the information from that source document and move it to an appropriate folder on my computer hard drive.
Move on to the next source document.
My 'Source Analysis' sub-folder now has 87 notes for the 87 source documents I looked at during February (certificates, photocopies of archival documents and newspaper articles).
A screenshot of my 'Source Analysis' subfolder in Evernote. I have created one note for each source document.
In the process of sorting through my Fullerton information on my computer hard drive I also came across other little bits of data relevant to my Fullerton writing project which didn't quite fit into my chronological Word document. So I created other sub-folders in my 'Fullerton Project' folder in
Evernote
including:
'People' (a place to store notes about other people related to the Fullerton story: neighbours, baptism sponsors, employees etc.)
'Kildare Immigrants to Victoria' (similar to the 'People' folder, a place to store references to other immigrants from County Kildare Ireland who came to Victoria)
'To Do: Images' (a place to store a copy of images I might use later when I create my book e.g. photographs from library collections found via Trove)
'To Do: Newspapers' (a place to store newspaper references I have not yet followed up)
'To Do: Archives' (a place to store references and ideas for further research in archives)
'To Do: Libraries' (a place to store references and ideas for further research in libraries - local, state, national, genealogy and historical societies)
'To Do: Places to Visit' (a place to store notes about ideas for location research e.g. cemeteries)
'To Do: Web' (a place to store ideas for further research online)
'To Do: Documents to Obtain' (a place to store reminders about documents I should obtain e.g. certificates)
'Plans' (chapter plans)
'Previous Writing' (previous writing relevant to my Fullerton project e.g. University assignments, blog posts, articles written for journals etc.)
'Timelines' (previous timelines I created)
'Style Sheets' (information about how to cite and analyse different sources)
'Bibliography' (source citations for all documents etc.)
'Writing Ideas' (notes about writing ideas from books, articles on the web etc.)
'Publishing Resources' (notes about publishing a family history book)
This is a screenshot of the folder structure of my Fullerton Project information stored in Evernote.
I need to find out how to sort sub-folders alphabetically.
I also created a spreadsheet in Excel called 'Other Fullertons' (with fields for surname, given names, year, place, source and notes) so I could store any references I have saved that refer to other Fullertons/Fullards/Folliards in Australia.
I have also created two other main folders in
Evernote
called 'History Topics' and 'Repositories'.
What have I learned?
To make more realistic word count pledges.
I have a lot of information already, but there are still gaps in my knowledge.
I should have started this organising and writing when I first started researching 10 years ago.
What tools have I used?
What do I still need to achieve (To Do)?
I have found references to documents, books and places I had hoped to go to research but have not yet. I have stored all these ideas in 'To Do' folders in Evernote.
I need to read lots and lots of history! Local, state, national, Irish, histories of immigration, histories of the Irish in Australia etc.
I need to use newspapers and local histories to fill in the gaps in the story and bring it to life: e.g. events of the time, weather etc.
I need to read more books on writing history and I need to practice writing in different creative styles.
I need to keep motivated and keep writing.
Recommended Books:
Recommend Websites:

© 2013.
Australian Genealogy Journeys
by
Aillin O'Brien
is licensed under a
Creative Commons Attribution-NonCommercial-NoDerivs 3.0 Australia License
.Permissions beyond the scope of this license may be available at
http://ausgenjourneys.blogspot.com.au/p/copyright-terms.html
.