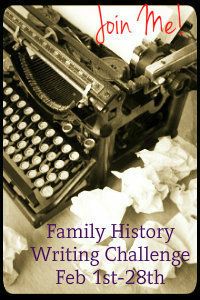 One of the
Goals for 2013
that I made at the beginning of this month was:
Make plans for my Fullerton family history book. Use Personal Historian 2 to help organise the story structure.
Writing the history of the Fullerton family has been a goal of mine since I first started researching the family in 2004. Many, many, people have helped me and contributed information over the years, including the 130 descendants who came to the Fullerton reunion in October 2010. It is hard to believe that it is nearly 10 years since I started researching and over two years since the family reunion. I have found myself a little overwhelmed by all the family history data I have collected over those years for the Fullertons and for my other ancestral families. Distractions, other life issues outside of genealogy, and the enormous scale of my disorganisation (which I have written about many times on this blog) have caused me to procrastinate about the actual task of writing.
I've read the
books on writing family histories
; I've created a detailed timeline; I've entered all the Fullerton data into my genealogy software with source citations; I've tagged hundreds of articles on
Trove
; I've even written up a chapter plan - but I still don't have the family history I committed to write. I feel disappointed every time I think of it. I've been trying to chip away little by little at my disorganised data collection for the past two years, and I hope I have had some success. However, there is still a way to go.
I've decided I'm not going to let my ongoing organisation tasks stop me from actually starting to write. All the
books
I've read make it clear that you should write as you research because that helps you to see the gaps in your research and see where you can 'fill in the holes'. I know there is huge potential for more archival and library research but, to be honest, I have put that part of my genealogy hobby aside for the past two years due in part to my disorganisation, but mostly due to other issues in my life. I want to change that. I want 2013 to be different. I want this to be the year I actually start to meet some of my long term goals.
With all of this in mind, I have decided to take up the 28 Day
Family History Writing Challenge
from the 1st until the 28th of February this year. I will commit to writing 500 words a day for my Fullerton family history. During February I will blog occasionally to keep you all up-to-date with my progress.
© 2012.
Australian Genealogy Journeys
by
Aillin O'Brien
is licensed under a
Creative Commons Attribution-NonCommercial-NoDerivs 3.0 Australia License
.Permissions beyond the scope of this license may be available at
http://ausgenjourneys.blogspot.com.au/p/copyright-terms.html
.